By Heidi Cohen
20 Tactics To Raise Your Marketing Batting Average
Marketers are a lot like great baseball hitters. To raise your marketing batting average, you need to do 2 things: Get up to bat a lot and get on base a lot.
Get your marketing up to bat a lot
To get your marketing up at bat more frequently, create more top of the funnel opportunities.
As Babe Ruth say, "Never let the fear of striking out get in your way." For marketers, this means keep getting your marketing out there.
Here are 10 tactics to raise your marketing batting average.
Fill your on-going marketing calendar. Plan your marketing events in advance so that you have an on-going flow of hooks around which to create content and promotions. The object is fresh material that engages your audience.
Communicate with prospects and customers regularly. Out of sight can be out of mind. Remain top of mind with a regular serving of quality content even if they only buy your product once every 3 years. Email is good way to accomplish this.
Monitor what your competitors are doing. Don't act in a vacuum. As with baseball, you want to assess who the competition is and how you expect them to act. Don't limit yourself to direct competitors. Think in terms of how your customer will make purchase trade offs.
Create a series of communications, where appropriate. Just as pitchers use different types of throws for different players, tailor your communication for special segments of your email and customer base. At a minimum, write a series of emails for new prospects since new readers are more excited about your mailings.
Ensure that your marketing renders well on a variety of devices. Don't assume that 1 size fits all. This means PC, smartphone and tablets. Also, don't underestimate the power of other devices such as televisions, cars and out-of-home (including in-store kiosks.)
Maximize each piece of marketing's distribution. Stretch your marketing reach. Use a variety of different platforms including owned and social media because customers need to see your message 5 to 7 times before they believe it.
Supplement your owned media with search and paid advertising. Broaden your reach with paid options. This is particularly important for new businesses or those with small customer bases and/or social media followings.
Take full advantage of every marketing opportunity. Assess every aspect of your marketing, sales and customer service to find new opportunities to expand your merchandising. For example: Add a marketing note to all of your customer service emails (except for credit issues!), include a call-to-action on business cards, and offer special deals on sales receipts.
Segment your audience to better target your messages. Leverage the power of your customer data to send more tailored messages based on past buying history. This is an old direct marketing tactic.
Ask influencers to help spread the word about your products. Get spokespeople who your audience finds credible to talk about your products. Both infomercials and affiliate marketing leverage this approach. (Here's how to influence the influencers.)
Get your marketing on base a lot
In baseball, if you don't get on base, you can't score. Similarly in marketing, if no one sees your marketing, you can't get a sale. To this end, you must create more middle and bottom of the funnel opportunities.
As manager Leo Durocher said, "I believe in rules. Sure I do. If there weren't any rules, how could you break them? " Marketers should pay heed to this advice and consider how they can break away from the pack.
Here are 10 tactics to help your marketing get on base.
Engage with prospects and customers. Be available at retail, via customer service and on social media. This also means being present on mobile and mobile search.
Provide useful information that answers prospects' questions. Offer your prospects the 5 basic types of content they seek on a self-serve basis. Potential buyers (B2B and B2C) are 50+% through the purchase process before they contact you. Make sure your information sways them to buy from your firm.
Sway prospects with special promotional offers. Give your customers a reason to buy from you on a regular basis. While you don't want to compete on price, offer prospects an incentive to buy. Data shows that this is a prime reason shoppers follow businesses on Facebook.
Incorporate a call-to-action. You can have the best marketing in the world but without guiding your prospects to the next step, nothing may happen. Ask for the sale (or at least the next step in the process.)
Use tailored landing pages. Don't assume your audience will recognize your marketing once they clicked through a piece of your social media, content or search. Incorporate your branding into each element of the process.
Offer related products where appropriate. Test offering related products or other colors of the same product to increase the purchase size. (When I was a kid, my mother always bought another color of a blouse that fit.)
Streamline your purchase process. Even the most loyal customer doesn't want to wade through pages of checkout forms to complete a purchase. Make sure that every piece of information on your purchase form is necessary (NOT just nice to have!!!)
Be prepared to close the sale at any point. Allow prospects to purchase when, where and how they choose.
Follow up with customers post-sale. Unless you're going out of business once your inventory is sold off, make sure your audience is happy with your stuff. If they're not, find out what the problem is and fix it. Otherwise, they'll not only return your product but also complain about it to their friends.
Persuade customers to rate and review your products as well as to share their photos using them. People trust other people in aggregate more than they trust your marketing. If you don't offer reviews, your competitor will.
Of course, like baseball, when it comes to marketing, you need to keep score and that means tracking your results and key indicators. As the Pirates pitcher Vernon Law said, "If you don't play to win, why keep score?"
What other tactics would you add to this list of top of the funnel and middle of the funnel marketing and why?
Happy Marketing,
Heidi Cohen
Heidi Cohen is the President of Riverside Marketing Strategies.
You can find Heidi on Google+, Facebook and Twitter.
to get stellar insights from 45 social media experts including Mari Smith, Jay Baer, Lee Odden and Amy Porterfield.
Want to save $450? Order your ticket to Social Media Success Summit NOW to get the LOWEST price available! There are ONLY 500 LOW price tickets available and when they're gone the price will go up.
Order before Friday, July 11th to get the MOST SAVINGS on Social Media Success Summit.
BTW—Did we mention that this is a virtual conference? This means there's no additional travel cost or hassle.
Join me & Kevin Spacey at Content Marketing World 2014
Meet me in real life at CMW 2014 in Cleveland.
Free Download!
The Modern Marketer's Guide to Getting the Most Out of Video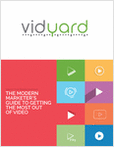 You might be using video to tell better brand stories, but are you especially strategic? Are you tracking performance with meaningful metrics? Are you following up with engaged viewers at the perfect moment? If not, relax. Vidyard has you covered.
In this practical guide they walk you through:
What it means to narrowcast (and why you'll want to do this)
The six steps to purposeful, measurable video marketing
Ways to use video throughout the funnel
Connecting video data to your MAP to identify & nurture your hottest opportunities
The metrics you need to track as a successful video marketer
Download this FREE Guide Today!
Now there are two ways to get Heidi Cohen's Actionable Marketing Guide by Email:
Subscribe to receive notice of each new actionable marketing post delivered free, directly to your inbox. Signup for the weekly Actionable Marketing Newsletter and get a roundup of of the week's posts, plus extra content you won't find on the website, plus a free e-book: What Every Blogger Needs to Know – 101 Actionable Blog Tips
Related Articles
Yogi Berra: 13 Social Media Lessons From The Mound (Quotes)
Photo Credit: https://www.flickr.com/photos/donovanshots/8643590839
The post The 2 Things Every Marketer Must Do appeared first on Heidi Cohen.
Source: http://feedproxy.google.com/~r/HeidiCohen/~3/ShCjktkVllU/