By Oli Gardner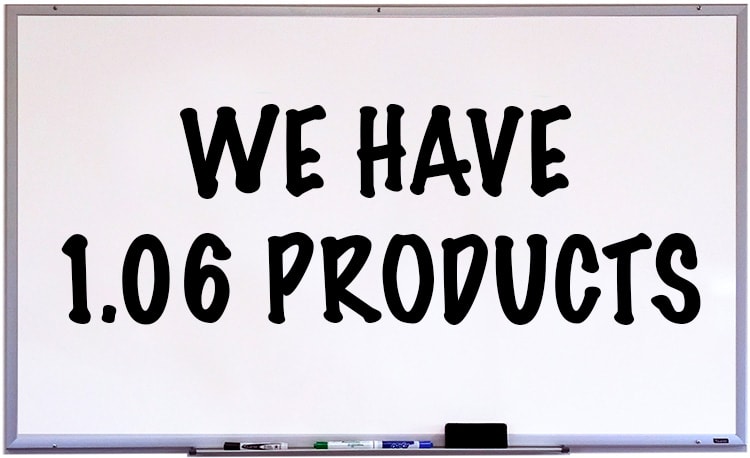 We Have 1.06 Products. Do we suck at product marketing?
I wrote that statement on a whiteboard at the start of a website brainstorm session.
What does 1.06 products mean?
1.06 sums up my frustration at the adoption rate of our new products. Yup, Unbounce is now more than just a landing page builder. We released two new products, namely "overlays" and "sticky bars", and we grouped them together under an umbrella term "Convertables".
The number 1 represents our flagship industry-leading landing page product (100% of our customers have adopted it), and the .06 represents the tragic adoption rate of our new products (6%).
And yes, you'd be correct if you noted that "Convertables" isn't a real word, but then neither is Unbounce, so we went with it after a notable amount of company-wide polling, and general corporate groupthink. More on that later.
So, how does this scenario result in me writing 30 blog posts about product marketing?
Rewind to October 5th: I was in a meeting with fellow co-founders Rick, Carl, and Carter, openly expressing my frustration with the adoption numbers, and Carter interrupted me to ask, "Okay, fine, but what are you going to do about it?".
Then this video happened…
Awesome, right?! Yeah, it is, until the moment I realized it's been exactly 301 days since I last wrote a blog post (I've been focusing on public speaking), making this level of bravado a tad audacious at best. Aaand, yes I realize I was a little intoxicated in the video.
But, I've learned over the years, that being a bit ridiculous in my promises is the only way I really know how to get shit done. When I tell everyone that I'm doing something big, the self-imposed peer pressure is what motivates me to make sure I complete my mission.
Enter Product Marketing Month (PMM): A Product Marketing Journey
This brings me to our blog. We've never written much about our products on the blog, in fact, we've actively avoided it to let the content speak for itself as an educational pillar of the community, and to remain non-salesy.
I've realized though, that it doesn't make much business sense to be that overtly humble in all marketing communications. There has to be a way to balance exposing people to your product without it detracting from the experience.
It's my fault in many ways. When I started our blog back in 2009, I had a mission to be different from our competitors, to not come across as a salesperson, and just to provide value and entertaining content that stood out.
We dominated the realm of conversion content for many years, but in an increasingly competitive SaaS martech space, our content is no longer number one, and it's time that we change our approach.
Which is why we're doing a blog takeover for the whole of January.
Our goal is to explore a category we've not covered before (product marketing), but also to expose a transparent window – transparency is one of our six core values at Unbounce – into our journey as a company, as a marketing team, and myself personally, to become better product marketers.
For me, it's the first time I've ever been involved in product marketing, which will make it a fascinating personal journey reinventing myself as a different kind of marketer.
I'm also cutting the number of speaking gigs I do in 2018 in half, because let's be honest, in this moment, the success of Unbounce can be more rapidly impacted by me staying home than being on the road.
Transparency
Along the way, I'll be opening up the Unbounce vault to share our core metrics with you. This will include our churn and product adoption metrics, which we hope to be able to lift in a big way throughout this 30-day experiment. There will be data check-ins throughout, with a halfway report, and then a full "Results Show" at the end.
I'll also be digging into our analytics to see what the engagement and attribution looks like for every one of the 30 blog posts.
Some of the content will revolve around the learnings and experiences of becoming a better product marketer, and the rest will be an exploration of the ways we're trying to rethink what our products are, what they mean to our customers, and how we can do a better job communicating their benefits (with some case studies and new ways of thinking – I hope).
I say "I hope" because I'm writing this as you read it. That's what tends to happen when you commit to something as absurd as 30-in-30.
Follow Along

I encourage you to follow along by subscribing to our weekly update emails at the bottom of the page. I'm really keen to have our community (that's you) help us explore how to do this properly, and hopefully, we'll all learn how to do a better job of marketing our products.
This is a screenshot of the subscribe form at the bottom of the post. Thought you should know.
You can also subscribe by clicking here to launch a popup which contains the subscribe form.
Source:: http://feedproxy.google.com/~r/Unbounce/~3/NuIIYBI5jC4/