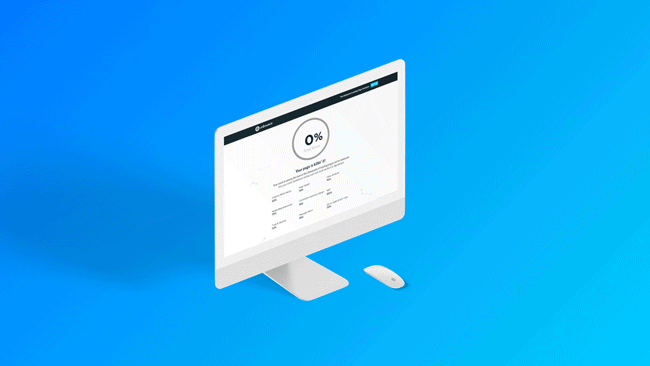 As a savvy marketer, it's our sincere hope you never start a campaign without a dedicated landing page for sending your paid traffic to. But — as you know — the job isn't over once a landing page is created.
Your real opportunity is in understanding how your page performs.
Beyond tracking standard performance measures like conversions, bounce rate, and landing page quality (LPQ), you've likely wondered about other factors like:
Is my landing page copy clear? Are there too many words? Too few?
Is my page faring well on mobile? Does it load fast enough?
Is this page just designed nicely, or is it also optimized for SEO?
What's a good conversion rate for this type of page in my industry?
Ultimately you want to know whether you've got an especially high converting page, or if there's anything specific you can improve. But it can be difficult to know what 'good' looks like, and you may not always have a second set of eyes to help you critique.
New: Try Unbounce's Landing Page Analyzer
For years we've seen a need to independently grade or evaluate landing page performance, and so—after many months of development—we're very pleased to unveil the Unbounce Landing Page Analyzer.
With this grader-style tool, you input your landing page URL (along with a few key details) and the Analyzer instantly delivers a comprehensive, personalized report including customized recommendations you can try today to increase your conversion rates.
Not only do you get a summary of how your page compares to others in your industry, but you also see important page performance insights including your landing page's speed, load time, and page requests that may be slowing things down.
If the Analyzer discovers your images are too large (contributing to slow load time), your custom report will include compressed versions of all your images to replace quickly and get your page loading even faster.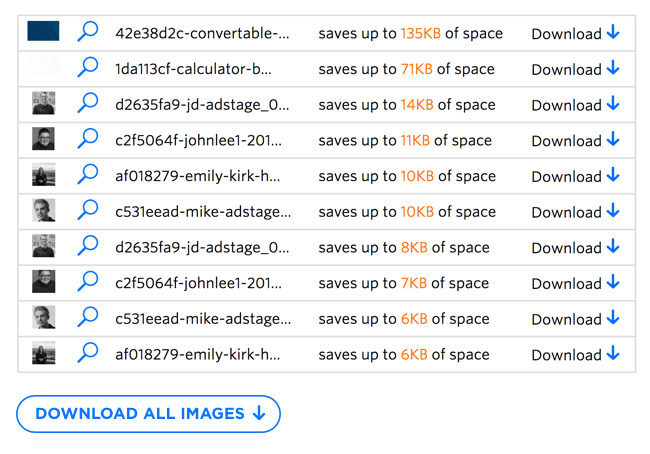 In the Analyzer's comprehensive report, you'll see specifics across nine specific categories, and discover whether your landing page:
Conveys trust and security
Appears properly on social networks and mobile with open graph images
Is designed in a way that's especially high converting
Contains too many CTAs
Has an appropriate Flesch reading ease and sentiment for your industry,
and much, much more.
IMAGE HERE RE: LP ANALYZER DATA
Wait, aren't there other landing page graders out there?
Touche! There are other landing page analyzers/graders/calculators available, but we can confidently say Unbounce's is the most sophisticated and comprehensive you'll find. Ours is the only landing page Analyzer on the market leveraging AI technology, and the endless amount of campaign research done by our customers and our in-house marketing team.
For the past eight years, we've been obsessed with the question "what's a good conversion rate?", and Unbounce's internal research team has employed proprietary AI technology to analyze the behavior of over 75 million visitors to 65,000 landing pages with a goal of understanding what makes a customer convert.
We have more data than any other conversion platform to provide insights on what a high-performing landing page looks like, and now the Analyzer leverages this insight.
Actionable feedback you can implement today
The best thing about the Analyzer? You'll discover instant improvements that might take you only minutes to fix.
The Wizard of Moz himself, Rand Fishkin ran the following landing page from Moz.com through the Analyzer and he had some great things to discover.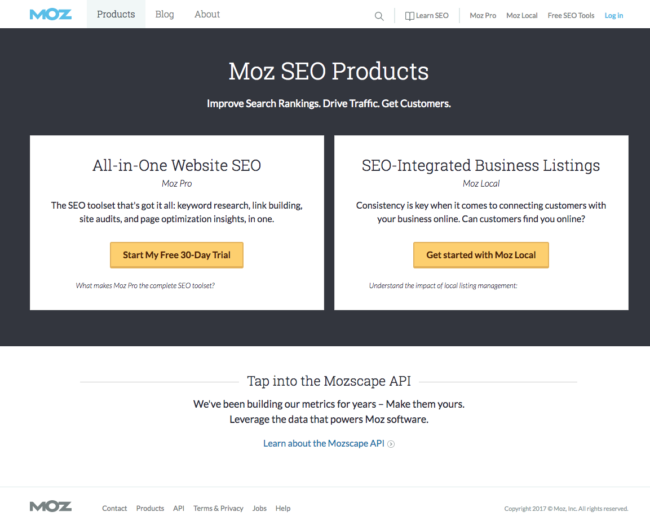 How'd the page fare?
"I'm glad to see we passed so many of the technical checks! I was a little nervous. [I] Realized that the page is missing testimonials or social proof. That's a head-smacking moment."
Rand may be a bit self-depreciating here, however. Moz's page scored really well with a 75% overall.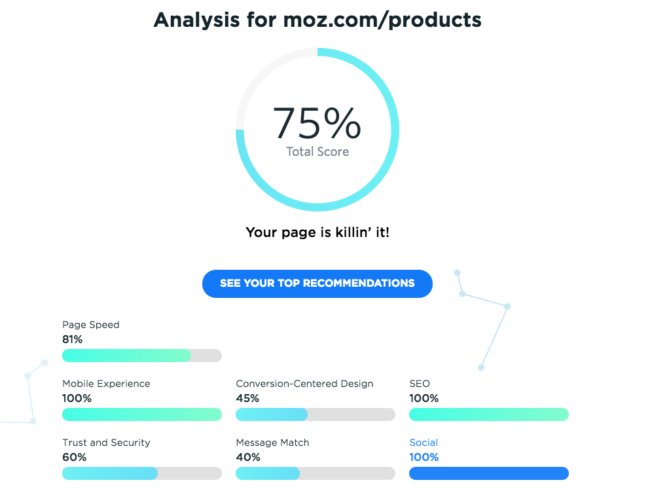 Rand's verdict on trying out the analyzer:
"I've never seen a page analysis tool that's focused on optimization. In my opinion, this can be hugely helpful for folks to quickly check that they've nailed the basics of landing page optimization and accessibility. I have no doubt tens of thousands of websites can get better just by applying this tool's advice."
Interested in what the Analyzer could teach us about our in-house landing pages at Unbounce, we ran our recent event landing page for PPC week through to see what we'd learn: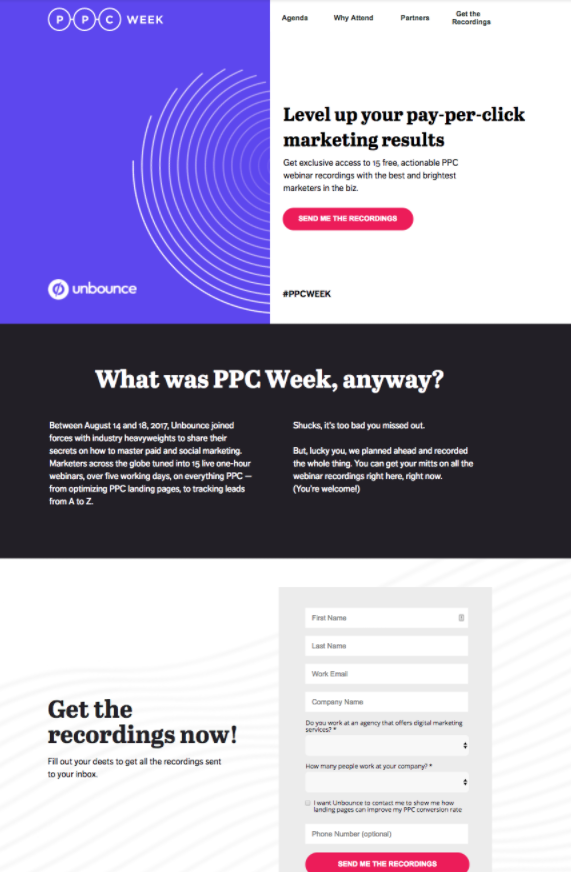 The landing page for PPC week we input into the Landing Page Analyzer.
We learned the page converts very well for our industry (7.7%), and while the page load is speedy (0.7 seconds), at 3.32MB it's overweight and could be loading even quicker if we reduce it to less than 3MB.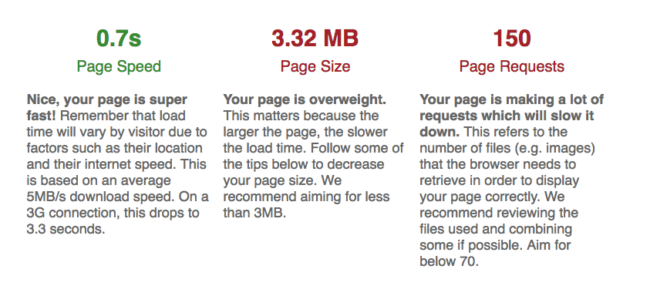 Pictured: Some of our initial page performance insights for the PPC week landing page
Fortunately, the Analyzer also provided us with some compressed images that will help us load up to 9% faster:

Pictured: Some images we can replace for a faster page.
We also saw that our page title, meta description and H1 tags were helping our SEO visibility (which was important for this particular page). The Analyzer noted that we could add to the page's meta title to hit the recommended length of 50-60 characters.
All of these quickly-changed factors can improve this page for us, but we're most excited to see what you discover about your own landing pages. You don't need to have an Unbounce-built page to give the Analyzer a shot either (although, it's terrific if you do!).
CTA NEEDED———-
Try the Landing Page Analyzer Today
Get your personalized report full of actionable recommendations in minutes.
ANALYZE MY PAGE
Source:: http://feedproxy.google.com/~r/Unbounce/~3/duSkiKAMWm0/